Module Guide – Recording Techniques
1. Key Information
Module Title: Recording Techniques
Department: Music and Performing Arts
Module Code: MOD000567
Level: 4
Academic Year: 2015/16
Semester: 1
Module Leader: Richard Hoadley
Cambridge/Helmore/244
Phone number: 0845 196 2318
Email:Richard.Hoadley@anglia.ac.uk
Module Tutor(s): Gareth Stuart
Cambridge/Helmore /040 / 036 / 037
Email: gareth.stuart@anglia.ac.uk or via the VLE
---
Every module has a Module Definition Form (MDF) which is the officially validated record of the module. You can access the MDF for this module in three ways via:
All modules delivered by Anglia Ruskin University at its main campuses in the UK and at partner institutions throughout the UK and overseas are governed by the Academic Regulations. You can view these at www.anglia.ac.uk/academicregs. A printed extract of the Academic Regulations, known as the Assessment Regulations, is available for every student from your Faculty Office (all new students will have received a copy as part of their welcome pack).
In the unlikely event of any discrepancy between the Academic Regulations and any other publication, including this module guide, the Academic Regulations, as the definitive document, take precedence over all other publications and will be applied in all cases.
---
2. Introduction to the Module
Recording Techniques is a module aimed at the aspiring musician rather than the recording engineer. By working on a number of creative projects, students learn to use computer software for recording, editing, sound-processing and sequencing. Students will also learn how to use microphones and will be shown how important their placement is relative to a particular sound source. They will learn about the different approaches to recording that are demanded by particular musical situations, including the special situation of recording the human voice. Multi-tracking, editing and post-production techniques such as normalising, compression and gates will be examined as tools to enhance the quality of recordings made in different situations. Students will be able to work collaboratively by forming and recording their own musical ensembles, with the intention of realising particular recording scenarios.
Assessment is via a portfolio consisting of two main tasks, each defined by a specific musical goal. Each task will be appraised by the extent to which students have chosen techniques (of microphone placement, recording, editing, sound processing and mastering) appropriate to the musical goal.
---
3. Learning Outcomes and Outline Delivery
Anglia Ruskin modules are taught on the basis of intended learning outcomes and on successful completion of the module, you will be expected to be able to demonstrate you have met those outcomes.
On successful completion of this module you will be able to:
1. Demonstrate an understanding of the computer as a functioning recording studio; e.g. through your software/hard disc based recording, editing, mixing and mastering work and subsequent portfolio submission.
2. Understand the technical demands of studio and location recording, including microphone placement and room acoustics; e.g. by becoming empowered to use creative judgement in making technical choices to achieve musical outcomes
3. Develop the ability to work as part of a team on music recording projects; e.g. plan to collaborate and work with fellow students rather than working alone
4. Demonstrate basic editing, sound processing and mastering skills in the computer music studio; e.g. an outcome achieved by successfully completing both assessments
Week 1 –  Introduction
The purpose of this session is to give a clear and detailed module overview, discussing the tasks involved in creating the portfolio / blog (and its format), and the criteria in place to assess work submitted. We will look at the module guide and module definition form and clarify the module's aims in relation to the learning outcomes.  Individual blogs will be created to facilitate the students' critical interaction (also establishing a medium for formative feedback) and they'll be encouraged to form musical ensembles with the intention of realizing particular recording scenarios, both in class and their own time.  Details of studio-booking protocol, the recording facilities and network will be given followed by a practical introduction.
Weeks 2 to 4 –  Multi-track Recording  1
The tutor will supervise a number of recording and editing workshops (with reference to relevant publications) to explore a variety of recording and production techniques (including normalizing, equalization, compression and gating) where the musical outcome (associated with bands using electric equipment and governed by genre and production aesthetic) is largely achieved through studio manipulation . Students are directed to bring instruments and to work collaboratively.
Weeks 5 and 6 – Stereo Recording Techniques 1
Here, a range of 'classic' stereo microphone techniques are demonstrated (again, with reference to relevant publications) involving spaced, coincident and multi-microphone approaches where the musical outcome is primarily concerned with recreating the illusion of a concert hall setting.
Preparatory Reading:
Faulkner, T., 1981 A Phased Array Hi Fi News and Record Review
http://www.sengpielaudio.com/TonyFaulknerPhasedArray02.pdf
http://www.sengpielaudio.com/TonyFaulknerPhasedArray03.pdf
http://www.sengpielaudio.com/TonyFaulknerPhasedArray04.pdf
Week 7 – Presentations
Group presentations of work in progress
Week 8 – Multi-track Recording 2
Recording and editing workshops with an emphasis on sound processing and mastering.
Weeks 9 and 10
To further explore studio recording with an emphasis on experimenting with microphone placement.
Weeks 11 and 12
Tutorials and supervised studio sessions
3.1. Lectures and workshops
All information and resources for this module are available via a specially-constructed web site at:
http://www.zigzagmusic.com
The web site contains a wealth of material – articles, sound recordings and expanded reading lists  – collected to support this delivery of the module. In addition to these resources, the site is also used to give out important and up-to-date information about the module. You will need to consult the site regularly, and you are advised to bookmark the address
---
4. Assessment
Assessment is via a portfolio consisting of two recording projects which make different uses of recording/ editing/ mastering techniques appropriate to specific musical situations. Each project should be documented by an online blog created by the student.
Please refer to the marking system used for more detail on how the module is assessed (with specific reference to section 9 of the Module Definition Form).
Assessment 1 and assessment 2, which comprise the portfolio, are designed to explore microphone placement for multi-track recording and stereo microphone technique for use in the studio and on location; all recording is DAW (digital audio workstation) based. These techniques and approaches meet the requirements of learning outcomes 1 and 2.
For learning outcome 3, students' blog addresses + preferred instrument/s are posted here to facilitate both critical interaction (sharing information on-line) and organising studio sessions together. Also, most classes are run as workshops encouraging students to work as a team (in and out of lesson time).
Basic editing and sound processing techniques are discussed and practised through the recording and mixing stages. Finally, to maximise the portfolio's quality and professionalism, we cover several approaches to mastering  (involving  eq, compression and limiting) to fulfil the requirements of learning outcome 4.
Your work should be submitted, on audio CD, clearly labelled with the module title, your student ID number and your blog address. Please use a plastic CD wallet and sellotape it to the back of the cover sheet. Please do not use staples.
Submit this to the i-Centre of the Cambridge Campus before 2pm on Thursday 12 May, 2016.
Once marked, your work will be returned to the music secretary for collection at your convenience.
All coursework assignments and other forms of assessment must be submitted by the published deadline, which is detailed above. It is your responsibility to know when work is due to be submitted – ignorance of the deadline date will not be accepted as a reason for late or non-submission.
All student work that contributes to the eventual outcome of the module (i.e.: if it determines whether you will pass or fail the module and counts towards the mark you achieve for the module) is submitted via the iCentre using the formal submission sheet. Academic staff CANNOT accept work directly from you.
If you decide to submit your work to the iCentre by post, it must arrive by midday on the due date. If you elect to post your work, you do so at your own risk and you must ensure that sufficient time is provided for your work to arrive at the iCentre. Posting your work the day before a deadline, albeit by first class post, is extremely risky and not advised
Any late work (submitted in person or by post) will NOT be accepted and a mark of zero will be awarded for the assessment task in question.
You are requested to keep a copy of your work.
Feedback
You are entitled to written feedback on your performance for all your assessed work. For all assessment tasks which are not examinations, this is provided by a member of academic staff completing the assignment coversheet on which your mark and feedback will relate to the achievement of the module's intended learning outcomes and the assessment criteria you were given for the task when it was first issued.
Examination scripts are retained by Anglia Ruskin and are not returned to students. However, you are entitled to feedback on your performance in an examination and may request a meeting with the Module Leader or Tutor to see your examination script and to discuss your performance.
Anglia Ruskin is committed to providing you with feedback on all assessed work within 20 working days of the submission deadline or the date of an examination. This is extended to 30 days for feedback for a Major Project module (please note that working days excludes those days when Anglia Ruskin University is officially closed; e.g.: between Christmas and New Year). Personal tutors will offer to read feedback from several modules and help you to address any common themes that may be emerging.
At the main Anglia Ruskin University campuses, each Faculty will publish details of the arrangement for the return of your assessed work (e.g.: a marked essay or case study etc.). Any work that is not collected by you from the Faculty within this timeframe is returned to the iCentres from where you can subsequently collect it. The iCentres retain student work for a specified period prior to its disposal.
To assure ourselves that our marking processes are comparable with other universities in the UK, Anglia Ruskin provides samples of student assessed work to external examiners as a routine part of our marking processes. External examiners are experienced academic staff from other universities who scrutinise your work and provide Anglia Ruskin academic staff with feedback and advice. Many of Anglia Ruskin's staff act as external examiners at other universities.
On occasion, you will receive feedback and marks for pieces of work that you completed in the earlier stages of the module. We provide you with this feedback as part of the learning experience and to help you prepare for other assessment tasks that you have still to complete. It is important to note that, in these cases, the marks for these pieces of work are unconfirmed as the processes described above for the use of external examiners will not have been completed. This means that, potentially, marks can change, in either direction!
Marks for modules and individual pieces of work become confirmed on the Dates for the Official Publication of Results, which can be checked at www.anglia.ac.uk/results.
---
5. Learning Resources
5.1. Library
Library Contacts
Faculty of Arts, Law and Social Sciences
Reading List Template – Anglia Ruskin University Library 
NB: You are encouraged to use an online version of the reading list below, which can be accessed via the VLE
Books
Borwick, J. (1987) Sound Recording Practice, Oxford: Oxford University Press
Brice, R. (2001) Music Engineering, Oxford: Newnes
d'Escrivan, J. (2012) Music Technology, Cambridge: Cambridge University Press
Katz, B. (2003) Mastering Audio: the Art and the Science, Oxford: Focal
Katz, M. (2005) Capturing Sound: How Technology Has Changed Music, Berkeley: U of California Press
Moorefield, V. (2005) The Producer as Composer, Massachusetts: MIT Press
Nisbett, A. (2003) The Sound Studio: Audio Techniques for Radio, Television, Film, and Recording, Boston, Mass.: Focal Press
Rumsey, F. (2006) Sound and Recording: an Introduction, Oxford: Focal
Runstein, R.E, Huber, D.M. (2005) Modern Recording Techniques, Oxford: Focal
Journals
Industry magazines:
Sound on Sound, Music Tech, Future Music Specific journal articles
Websites
http://www.dpamicrophones.com/
http://www.schoeps.de/E-2004/appendix-tech.html
http://www.sengpielaudio.com/TonyFaulknerPhasedArray06.htm
http://www.zappa.com/whatsnew/index.html
http://www.georgemartinmusic.com/
5.2. Other Resources
The studios in Hel 036, 033 and iMac workstations in Hel 040
Recommended Internet Resources
University Library Catalogue and Digital Library: http://libweb.anglia.ac.uk/
Harvard Referencing Guide: http://libweb.anglia.ac.uk/referencing/harvard.htm
Faculty Liaison Librarian: Karen Ready. (karen.ready@anglia.ac.uk). Ext. 2304
Music Subject Librarian: Sue Gilmurray (sue.gilmurray@anglia.ac.uk). Ext 2699
Recommended Listening
http://www.spotify.com/uk/free-user/
---
6. How is My Work Marked?
After you have handed your work in or you have completed an examination, Anglia Ruskin undertakes a series of activities to assure that our marking processes are comparable with those employed at other universities in the UK and that your work has been marked fairly and honestly. These include:
      Anonymous marking – your name is not attached to your work so, at the point of marking, the lecturer does not know whose work he/she is considering. When you undertake an assessment task where your identity is known (e.g., a presentation or Major Project), it is marked by more than one lecturer (known as double marking)
      Internal moderation – a sample of all work for each assessment task in each module is moderated by other Anglia Ruskin staff to check the marking standards and consistency of the marking
      External moderation – a sample of student work for all modules is moderated by external examiners – experienced academic staff from other universities (and sometimes practitioners who represent relevant professions) – who scrutinise your work and provide Anglia Ruskin academic staff with feedback, advice and assurance that the marking of your work is comparable to that in other UK universities. Many of Anglia Ruskin's staff act as external examiners at other universities.
      Departmental Assessment Panel (DAP) – performance by all students on all modules is discussed and approved at the appropriate DAPs which are attended by all relevant Module Leaders and external examiners. Anglia Ruskin has over 25 DAPs to cover all the different subjects we teach.
This module falls within the remit of the Music and Performing Arts DAP.
The following external examiners are appointed to this DAP and will oversee the assessment of this and other modules within the DAP's remit:
| | | |
| --- | --- | --- |
| External Examiner's Name | Academic Institution | Position or Employer |
| Dr Antje Diedrich | Middlesex University | Senior Lecturer, Contemporary Theatre and Practice |
| Dr Anthony Gritten | Royal Academy of Music | Head of Undergraduate Programmes |
| Dr Anna Seymour | University of Roehampton | Senior Lecturer, Dramatherapy |
| Dr Rachel Zerihan | University of Sheffield | Lecturer in Theatre |
The above list is correct at the time of publication. However, external examiners are appointed at various points throughout the year. An up-to-date list of external examiners is available to internal browsers only at www.anglia.ac.uk/eeinfo.
Anglia Ruskin's marking process is represented in the flowchart below: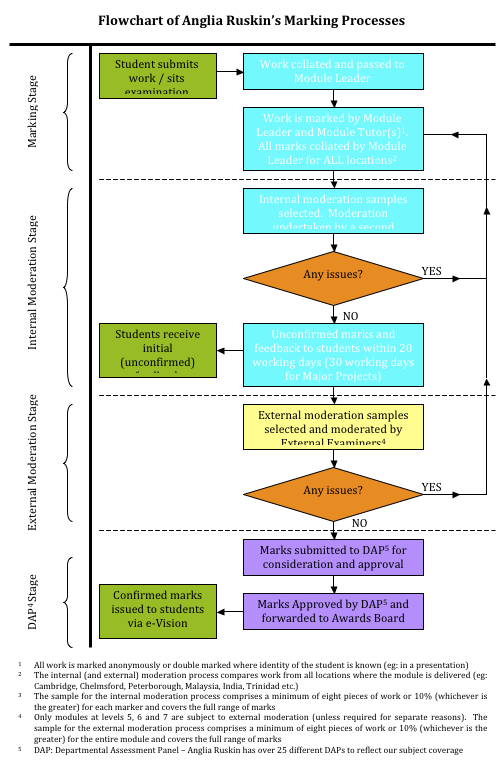 ---
7. Assessment Criteria and Marking Standards
7.1 Anglia Ruskin University Generic Assessment Criteria
Overleaf, you will find our University's Generic Assessment Criteria, applicable to all modules and all types of assessment. These will provide you with a guide to overall expectations of attainment for each grade band. They should be used in conjunction with the Module Specific Assessment Criteria (see below).
Anglia Ruskin University Generic Assessment Criteria and Marking Standards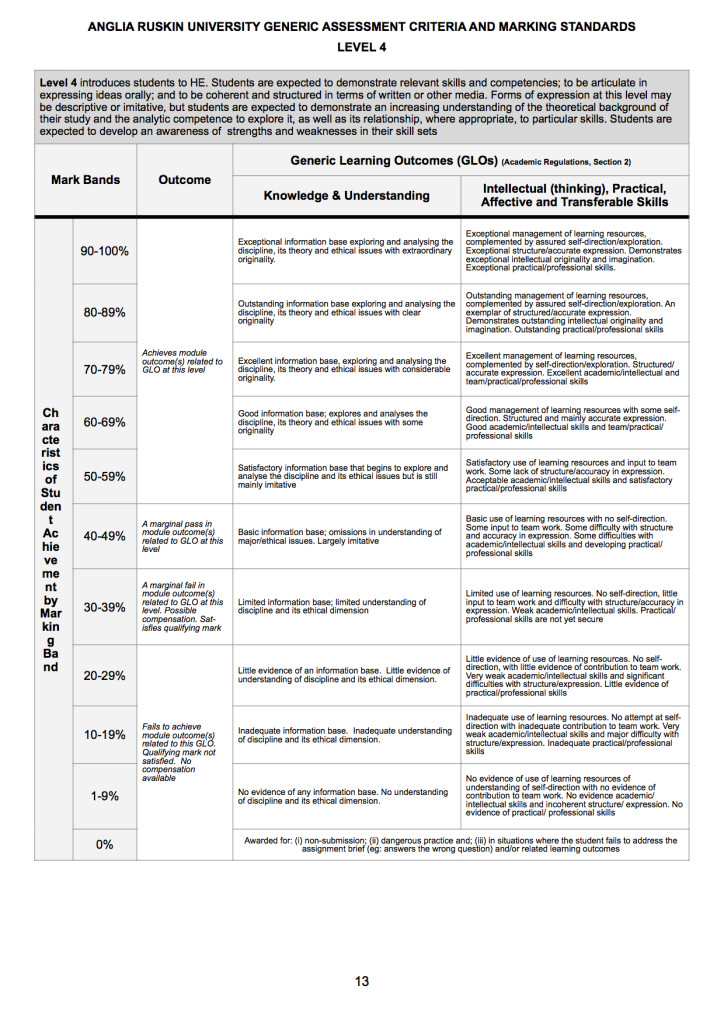 7.2 Module Specific Assessment Criteria
In addition to Anglia Ruskin's generic assessment criteria given in the following table, your work will also be marked against module-specific assessment criteria. Assessment tasks for this module will be marked against the marking criteria for Artefact Creation and Written Work which are available under the 'Student Resources' section of the departmental web site at: http://web.anglia.ac.uk/anet/faculties/alss/mpa/.
---
8. Attendance
Attending all your classes is very important and one of the best ways to help you succeed in this module.  In accordance with the Student Charter, you are expected to arrive on time and take an active part in all your timetabled classes.  If you are unable to attend a class for a valid reason (eg: illness), please contact your Module Tutor.
Anglia Ruskin will closely monitor the attendance of all students and will contact you by e-mail if you have been absent without notice for two weeks.  Please remember to "tap-in" using your Ruskin card at every taught session.  Continued absence can result in various consequences including the termination of your registration as you will be considered to have withdrawn from your studies.
International students who are non-EEA nationals and in possession of entry clearance/leave to remain as a student (Tier 4 student visa) are required to be in regular attendance at Anglia Ruskin. Failure to do so is considered to be a breach of national immigration regulations.  Failure to do so will have serious implications for your immigration status in the UK.  Anglia Ruskin, like all British Universities, is statutorily obliged to inform UK Visa & Immigration (Home Office) of significant unauthorised absences by any student visa holders.
Practical projects, rehearsals and ensemble performances are collaborative in their nature and require full attendance. Students taking practical and performance modules should be aware that at certain times a more intensive commitment is required which must be balanced against other life and work commitments. You will be notified of these extra rehearsals as far in advance as possible.
Please see the notes on 'Attendance' in the Anglia Ruskin Undergraduate Student Handbook for full University regulations.
To be effectively prepared for a teaching session, you should:
have completed all the set reading or other prescribed work as described in the course handbook or as set by your lecturer
have your own copy of the required text or other material
bring adequate writing materials for taking notes
be wearing appropriate clothing, especially for rehearsals and performance workshops
arrive mentally and physically prepared for the session
8.1. Attendance for Group and Collaborative Work
For modules that include collaborative practical work, especially those leading to live performance events, there is an especial necessity for full and punctual attendance. Poor attendance and/or engagement inevitably has a detrimental affect on the work of your fellow students and will hinder their achievement, as well as your own.
If you are unable to attend a particular rehearsal, class or workshop you should inform your Module Tutor immediately, and in advance of the class wherever possible. All members of staff have voicemail and email. You will then be entered on the register as an 'explained absence'. Failure to do this will mean that you will be marked 'unexplained absent'.
Absence for reasons of external work commitments, timetable clashes or time mismanagementwill not be accepted.
You should be aware that poor attendance and/or lack of commitment will inevitably affect your ability to meet the module learning outcomes to a satisfactory standard, and consequently your mark may be affected.
---
9. Assessment Offences
As an academic community, we recognise that the principles of truth, honesty and mutual respect are central to the pursuit of knowledge. Behaviour that undermines those principles weakens the community, both individually and collectively, and diminishes our values. We are committed to ensuring that every student and member of staff is made aware of the responsibilities s/he bears in maintaining the highest standards of academic integrity and how those standards are protected.
You are reminded that any work that you submit must be your own. When you are preparing your work for submission, it is important that you understand the various academic conventions that you are expected to follow in order to make sure that you do not leave yourself open to accusations of plagiarism (eg: the correct use of referencing, citations, footnotes etc.) and that your work maintains its academic integrity.
Definitions of Assessment Offences
Plagiarism
Plagiarism is theft and occurs when you present someone else's work, words, images, ideas, opinions or discoveries, whether published or not, as your own. It is also when you take the artwork, images or computer-generated work of others, without properly acknowledging where this is from or you do this without their permission.
You can commit plagiarism in examinations, but it is most likely to happen in coursework, assignments, portfolios, essays, dissertations and so on.
Examples of plagiarism include:
directly copying from written work, physical work, performances, recorded work or images, without saying where this is from;
using information from the internet or electronic media (such as DVDs and CDs) which belongs to someone else, and presenting it as your own;
rewording someone else's work, without referencing them; and
handing in something for assessment which has been produced by another student or person.
It is important that you do not plagiarise – intentionally or unintentionally – because the work of others and their ideas are their own. There are benefits to producing original ideas in terms of awards, prizes, qualifications, reputation and so on. To use someone else's work, words, images, ideas or discoveries is a form of theft.
Collusion
Collusion is similar to plagiarism as it is an attempt to present another's work as your own. In plagiarism the original owner of the work is not aware you are using it, in collusion two or more people may be involved in trying to produce one piece of work to benefit one individual, or plagiarising another person's work.
Examples of collusion include:
agreeing with others to cheat;
getting someone else to produce part or all of your work;
copying the work of another person (with their permission);
submitting work from essay banks;
paying someone to produce work for you; and
allowing another student to copy your own work.
Many parts of university life need students to work together. Working as a team, as directed by your tutor, and producing group work is not collusion. Collusion only happens if you produce joint work to benefit of one or more person and try to deceive another (for example the assessor).
Cheating
Cheating is when someone aims to get unfair advantage over others.
Examples of cheating include:
taking unauthorised material into the examination room;
inventing results (including experiments, research, interviews and observations);
handing your own previously graded work back in;
getting an examination paper before it is released;
behaving in a way that means other students perform poorly;
pretending to be another student; and
trying to bribe members of staff or examiners.
Help to Avoid Assessment Offences
Most of our students are honest and want to avoid committing assessment offences.  We have a variety of resources, advice and guidance available to help make sure you can develop good academic skills.  We will make sure that we make available consistent statements about what we expect.  You will be able to do tutorials on being honest in your work from the library and other support services and faculties, and you will be able to test your written work for plagiarism using 'Turnitin®UK' (a software package that detects plagiarism).
You can get advice on how to use honestly the work of others in your own work from the library website (www.libweb.anglia.ac.uk/referencing/referencing.htm) and your lecturer and personal tutor.
You will be able to use 'Turnitin®UK', a special software package which is used to detect plagiarism. Turnitin®UK will produce a report which clearly shows if passages in your work have been taken from somewhere else. You may talk about this with your personal tutor to see where you may need to improve your academic practice. We will not see these formative Turnitin®UK reports as assessment offences.
If you are not sure whether the way you are working meets our requirements, you should talk to your personal tutor, module tutor or other member of academic staff. They will be able to help you and tell you about other resources which will help you develop your academic skills.
Procedures for assessment offences
An assessment offence is the general term used to define cases where a student has tried to get unfair academic advantage in an assessment for himself or herself or another student.
We will fully investigate all cases of suspected assessment offences. If we prove that you have committed an assessment offence, an appropriate penalty will be imposed which, for the most serious offences, includes expulsion from Anglia Ruskin. For full details of our assessment offences policy and procedures, see the Academic Regulations, section 10 at: www.anglia.ac.uk/academicregs
To see an expanded version of this guidance which provides more information on how to avoid assessment offences, visit www.anglia.ac.uk/honesty.
---
10. Module Evaluation
During the second half of the delivery of this module, you will be asked to complete a module evaluation questionnaire to help us obtain your views on all aspects of the module.
This is an extremely important process which helps us to continue to improve the delivery of the module in the future and to respond to issues that you bring to our attention. The module report in section 11 of this module guide includes a section which comments on the feedback we received from other students who have studied this module previously.
Your questionnaire response is anonymous.
Please help us to help you and other students at Anglia Ruskin by completing the Module Evaluation survey.  We very much value our students' views and it is very important to us that you provide feedback to help us make improvements.
In addition to the Module Evaluation process, you can send any comment on anything related to your experience at Anglia Ruskin to tellus@anglia.ac.uk at any time.
---
11. Report on Last Delivery of Module